David Daokui Li: How to boost consumption? Offer direct subsidies to consumers on the payment side
This news report was originally published May 6, 2023, in Chinese by Economic View (http://www.jwview.com/). Written by Ma Jing. Edited by Wang Yongle. Translated by ACCEPT. To view the original article, click here.
On May 6, during the 2023 Tsinghua PBCSF Chief Economists Forum, David Daokui Li, Director of the Academic Center for Chinese Economic Practice and Thinking (ACCEPT) at Tsinghua University, said in an interview with Economic View that when it comes to stimulating consumption, we should learn from and promote the lessons derived from Shanghai's own experience. This means either stimulating or subsidizing consumption on the payment side, with research showing that every single yuan offered as a subsidy having the ability to generate a combined four yuan in extra consumption. He also emphasized that "we needn't go about selecting certain items or industries first, such as choosing to stimulate automobiles or apparels, which might be good for some industries, but would be unfair to other industries."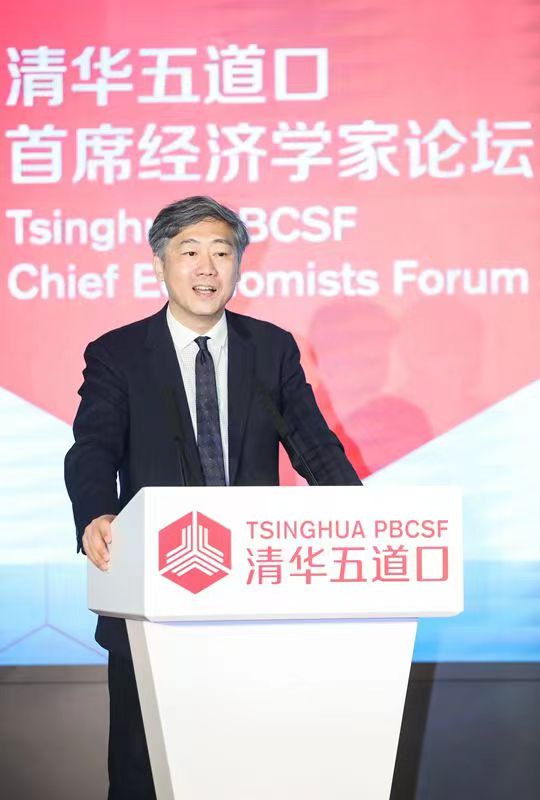 The Director of Tsinghua University's Academic Center for Chinese Economic Practice and Thinking (ACCEPT), David Daokui Li, speaks at the 2023 Tsinghua PBCSF Chief Economists Forum, an annual gathering of senior economists held in Beijing, China on May 6, 2023. (Photo Credit: 2023 Tsinghua PBCSF Chief Economists Forum)
Li pointed out in his speech that the core issue for China's economic development at present is to maintain stable and sustained growth. To strive for the economy and stabilize growth momentum, we can return to the fundamentals of government and economics as a field of study. In particular, there are several areas that we will "have no choice but to address" in the future.
The first is to promote consumption. In looking at the short term, Li suggested that although some economic indicators may at present seem to be satisfactory, the Consumer Price Index and Producer Price Index have both continued to remain rather dampened, and so providing suitable support as appropriate to bolster consumer confidence will be necessary.
When it comes to spurring on consumption, in addition to drawing lessons from Shanghai's experience, Li also told Economic View that it is also necessary to encourage relevant manufacturers to participate in promotion and discount activities where they forego some profits for the benefit of consumers, an approach that has the potential to provide a huge payoff for only a small upfront cost. "Long-term consumption depends on the independent behavior of individuals, but people are at present uncertain about their expected future income growth, and so they're comparatively more cautious about spending their money, which hence suggests a short-term need to jumpstart consumption through concession-taking measures that give up a share of profits. On the surface, these measures will promote consumption, but in all actuality they will serve to stabilize the economy, since a rise in consumption will generate burgeoning profits for manufacturers, which then will further expand employment and procurement, leading to a stabilization of the economy."
Referring to the recent trending topic of "Zibo barbecue," which has resulted in a consumption boom for the city, Li said that local governments ought to themselves start trying to consider what exactly could be done on their part. By keeping consumers and the general public front of mind, and aiming to do one's best to serve the people, the economy can be kept in good working order. In this sense, the government-led spirit behind the "Zibo barbecue" fever is worth emulating, but the same exact approach cannot itself be copied, "because Zibo is focusing on barbecue, this implies that there will be fewer tourists to go around for other localities."
In addition to the views outlined above, Li also underscored the present need to restructure local government finances. After more than a decade of pursuing infrastructure construction, local debt is now quite high. One solution put forward by Li and his colleagues at Tsinghua ACCEPT is to launch a major program to restructure local debt, which would be similar to the debt restructuring that was carried out for state-owned commercial banks many years ago. The general approach involves setting up rules for local governments, whereby the issuance of debt would be subject to certain fixed procedures, while at the same time, a considerable portion of local debt would be transferred to the central government and reissued as national debt.
Moreover, Li relayed that the establishment of a carbon market is likewise a matter demanding urgent attention. "The pursuit of the 'dual carbon' goals at present involves everyone doing their own thing and in their own way, with each local government and each industry taking their own respective approaches, which runs counter to the fundamental principles of economics. Instead, we must take into account the whole country at the same time." He mentioned that the carbon market must first be set in motion—with the market acting like a supercomputer. Just so long as the carbon tax is increased slightly in the appropriate areas, such as crude oil, coal and other areas, then gradually readjusted upwards, the market will begin taking shape and functioning automatically. In this way, many green investments will have favorable prospects to become profitable, encouraging many entrepreneurs and investors to enter the fold as they begin to throw their hat in the ring, which could also help bolster public finances to some extent.
Li stressed the importance of doing a good job with respect to maintaining a steady growth trend. The government and the market should exert their momentum in the same direction, with the government doing its best to take care of its own affairs while opening up, fostering and reforming the market.